FASHION AND TEXTILE INDUSTRY – HOW TO MANAGE CURRENCY EXCHANGE
24
AUG.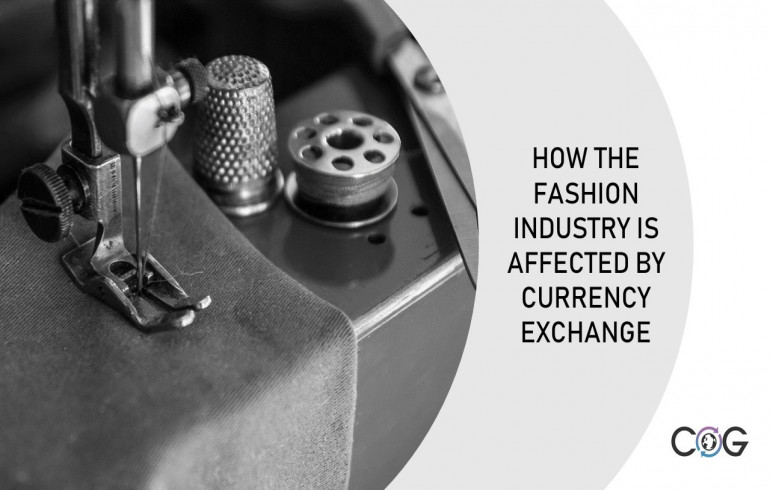 FASHION AND TEXTILE INDUSTRY – HOW TO MANAGE CURRENCY EXCHANGE
Reducing costs on international payment in the fashion and textile industry
Fashion is a global industry that is fast-paced and dominated by ever-changing trends and consumers, making it one of the most, if not the most competitive out there.
With Brexit due to take place at the end of 2020, there will be changes in the rules around import/export across the globe. This, in turn, means your currency exchange partner will be key in ensuring you are mitigating FX risk and keeping costs as low as possible.
How the fashion industry is affected by currency exchange?
The fashion industry works at least one season ahead making it more difficult to deal with currency fluctuations, set pricing and work out profit models. As well as this the industry is calling for more sustainability and better working conditions in some areas of the sector, putting pressure on those businesses as to where they source their materials and manufacturing, in turn potentially increasing costs.
With a vast number of fashion businesses sourcing suppliers and labour from the international market, changes in the currency market can be crucial to the profits of a company.
The likelihood is that you will be paying suppliers from various countries at different times of the year so to ensure you are getting the most from your money it is imperative that you have a currency expert on hand to help deal with fluctuations and changes in the foreign exchange market.
What can Currency Online Group do to help you mitigate FX risk?
Here at Currency Online Group we are able to provide you with an international payments account where you have complete control and 24/7 access over any overseas transaction your company needs to make.
Alternatively, one of our currency experts can assist you in monitoring and discussing ways of how to limit risk in the foreign exchange market.
If you need to make regular or recurring international payments, we can offer bespoke solutions such as a forward contract, which allows you to lock in a prevailing exchange rate for up to 2 years. (A deposit may be required for this service.)
As another option you may know the rate that you wish to achieve and are therefore able to do a market order, setting the desired rate for your international payment. Your currency expert will then trade at the rate should the market hit that point.
Currency Online Group already works with many companies within the fashion industry and provides great rates, no transfer fees, reducing currency exchange costs and maximising profit.
Want to know more or have a chat about how Currency Online Group can help your fashion empire then please contact our Director of International Payments Kaya Niedenthal to discuss things further or get a no obligation quote.
0208 050 1546
© Currency Online Group
19th August 2020
read more
Where can you currently travel to during the Coronavirus pandemic?..
19
AUG.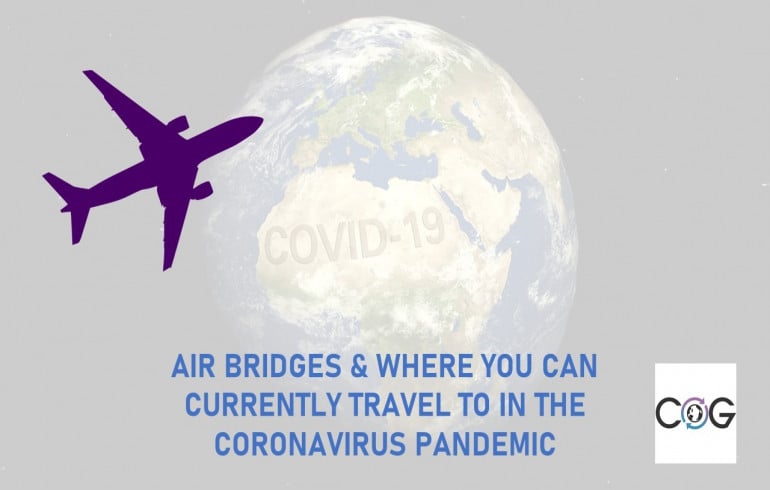 Updated 10th August 2020

Where can you currently travel to during the Coronavirus pandemic?
The Foreign and Commonwealth Office (FCO) continues to review the guidelines for travel. With the situation seemingly improving daily the hope is that restrictions on UK travellers will be temporary, meaning some 2020 summer holidays may still go ahead to certain destinations.
July 10th saw the introduction of agreed 'air bridges' to many destinations worldwide, lifting the need to quarantine on entry and return from these countries.
Here we look at the travel advice per destination according to the FCO.
EUROPE
FRANCE
§ From August 16th France was reinstated on the FCO list advising against all essential international travel. Those travellers arriving from the UK are not required to quarantine but on return to the UK, there will be a 14-day self-isolation period enforced.
ITALY
§ Entry to Italy from the UK is permitted - you no longer have to justify your reason for travelling
You should download and complete a self-declaration from the Ministry of Interior before you travel to Italy
SPAIN
§ From 27th July, the FCO advises against all non-essential travel to Mainland Spain based on the current assessment of COVID-19 risks. This includes the Canary and Balearic Islands. Those who do decide to travel to the above locations will not be subject to quarantine but the following checks will be made upon arrival:
· Provide the Spanish Ministry of Health with mandatory contact information and any history of exposure to COVID-19 48 hours prior to travel
· Temperature check
· Undergo a visual health assessment
When returning to the UK you will required to self-isolate for a period of 14 days.
GREECE
§ If you travel to Greece, you will need to complete a Passenger Locator Form (PLF) at least 24 hours before travel. Failure to do so in advance may result in your carrier not allowing you to travel, a 500 Euro fine on arrival or the Greek authorities not allowing you to enter the country.
§ Every traveller, including children, must have their details included on a PLF. If you're travelling with others outside of your household, you should all complete your own form. If you're travelling together as a household, the Greek authorities ask for you to complete one form with all adults and children included. You can add additional members of your household at the top of the form before you submit.
§ Some airlines may require individual PLFs for every traveller over the age of 18 within the same household. You should check directly with your airline what you will need to show in order to be allowed boarding.
BULGARIA
§ From July 16th 2020 travellers arriving into the country from the UK will no longer need to self-isolate for a period of 14 days. However, on returning to the UK the rules have changed and you must quarantine for 14 days.
CROATIA
§ On 11 May Croatia reopened its borders to visitors from the EU/EEA, and the UK, provided they held an accommodation reservation in the country. The self-isolation period was also removed. The Croatian government has introduced a new online entry form to expedite the entry of foreign visitors.
CZECH REPUBLIC
§ There are currently no restrictions in place on entering the Czech Republic if you are travelling from the UK.
DENMARK
§ Entry from an 'open' country does not require a period of self-isolation. The UK is deemed an 'open country. The only requirement is if you are entering as a tourist you will be required to document your holiday stay.
ICELAND
§ All passengers arriving by commercial flights in Iceland can chose to be tested for COVID-19 or self-isolate for 14 days upon arrival. The test fee is ISK 11,000 or ISK 9,000 if booked in advance. Children born in 2005 or later will be exempt from both testing and self-isolation.
§ Until 18 August, if you are normally resident in Iceland or plan to stay for 10 days or more, you must take special precautions for 5 days upon returning to Iceland and be tested for a second time, four to five days after arrival, even if you test negative on arrival.
§ From Wednesday 19 August, all people travelling to Iceland opting to test instead of the 14-day quarantine must be tested for a second time four to five days after arrival and now follow quarantine measures until the result of the second test is known. This will significantly affect what you can and cannot do on arrival. If you have booked a trip to Iceland you should contact your tour operator and travel insurer about what this means for you and your plans.
§ You must also fill in a pre-registration form before departure. You can find further information, including exemptions, and a video walk through of the process from the Icelandic authorities at Covid.is (available in English)
NORWAY
§ From 15th July, Norway is allowing entry for those resident in most Schengen or EU/EEA countries (which until the end of the year includes the UK). As a country with a low risk of infection, residents of the UK may travel and do not need to self-quarantine on arrival in Norway.
POLAND
§ From 4 July, Poland is exempt from the FCO advice against all non-essential international travel. This is based on the current assessment of COVID-19 risks.
SWEDEN
§ UK Nationals are currently able to travel to Sweden directly. On return to the UK, travellers will be required to self-isolate for 14-days
SWITZERLAND
§ Entry in to Switzerland from the United Kingdom is permitted for British nationals and nationals of EU and EFTA countries. Family members of UK/EU/EFTA nationals regardless of nationality are also permitted.
TURKEY
§ June 11th saw the resumption of direct flights from the UK to Turkey. No self-isolation is required but temperature checks will be undertaken on arrival.
REST OF THE WORLD
BARBADOS
§ International flights resumed to Barbados on July 12th. To fast track entry it is highly recommended that all persons arriving in Barbados should be tested for COVID-19 at an accredited laboratory. The test must be UKAS compliant or equivalent and be taken 72 hours in advance of your flight. As long as you produce a negative test result entry will be permitted. For more information click here. If you fail to produce a negative test result you will be required to undergo a test on arrival and placed in quarantine until a negative result is returned.
SINGAPORE
§ Short term visitors from anywhere in the world are not able to enter Singapore.
§ If you have extenuating circumstances for which you need to enter Singapore, you will only be permitted entry if you have been issued a 'SafeTravel Pass'. For more information see SafeTravel Pass Application Portal.
THAILAND
§ At present there are still a list of criteria to gain entry in to Thailand. For more info click here.
UAE (UNITED ARAB EMIRATES)
§ The UAE authorities have stated that with effect from 11 August, all citizens, returning residents, transit passengers and tourists have to undertake a COVID-19 PCR test in the country they are currently in and have proof of a negative result before travelling to the UAE. The test must be a PCR swab test. Other test results including antibody tests are not accepted. The test must have been carried out within 96 hours of departure. The test result is required for travellers from all countries arriving at all airports in the UAE. Further information is available on the National Emergency Crisis and Disasters Management Authority website. Children under the age of 12 and those with severe and moderate disabilities will be exempted from the test requirement. Those entering the country may also be asked to take a further COVID-19 PCR test on arrival and to complete a period of self-isolation
AUSTRALIA
§ You will need to apply for a visa via special exemption to be able to travel to Australia – normal visa applications are no longer accepted. Only Australian citizens and returning permanent residents and their immediate family members are permitted to enter Australia without an exemption until further notice.
NEW ZEALAND
§ The New Zealand border is currently closed to almost all arrivals. There are a small number of exceptions able to enter. For more info click here.
© CURRENCY ONLINE GROUP
10TH JUNE 2020
UPDATED 19th August 2020
read more