Where can you currently travel to during the Coronavirus pandemic?
19
JUN.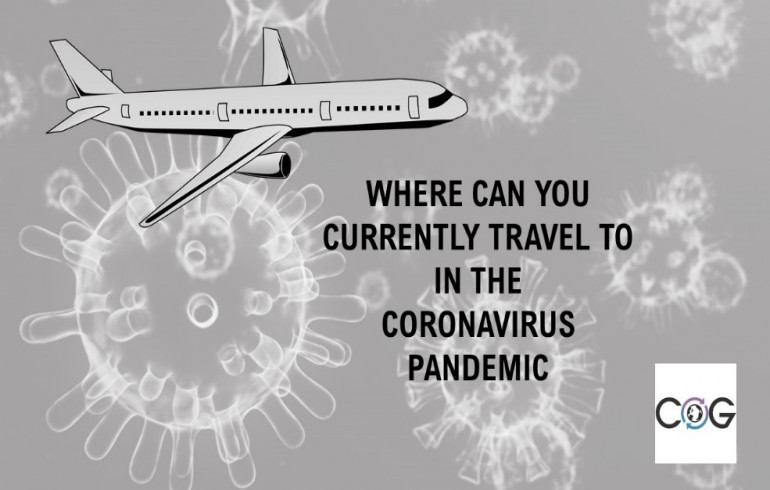 Where can you currently travel to during the Coronavirus pandemic?
The Foreign and Commonwealth Office (FCO) continues to review the guidelines for travel. With the situation seemingly improving daily the hope is that restrictions on UK travellers will be temporary, meaning some 2020 summer holidays may still go ahead to certain destinations.
Here we look at what destinations you may be able to travel to according to the FCO for UK Nationals:
EUROPE
FRANCE
§ Only permanent residents, French Nationals and a small number of essential travellers. In order to enter France, you will need to complete an international travel certificate, which certifies that your journey is essential and confirms that you have not been suffering from a set of listed symptoms associated with Covid-19.
ITALY
§ UK Nationals can now travel to Italy but are required to self-isolate on arrival for 14 days. Visitors will be required to complete a 'Self-Declaration form for Travel'. At this time there are only a limited number of flights to the country.
SPAIN
§ A country that is desperate to see UK tourists return but at present borders remain closed to anyone other than Spanish citizens or those that are legal residents of Spain. Essential travel is permitted but will need to be proved, with the process being scrupulous.
GREECE
§ Everyone arriving in Greece from abroad will be tested for coronavirus, and will be required to go into self-isolation. For the first 24 hours you will stay in Government accommodation. If you test negative you will be required to provide your place of stay and self-isolate for 7 days. If you test positive you will be required to stay in Government accommodation for a further 14 days.
BULGARIA
§ Travellers arriving into the country will need to self-isolate for a period of 14 days.
CROATIA
§ On 11 May Croatia reopened its borders to visitors from the EU/EEA, and the UK, provided they held an accommodation reservation in the country. The self-isolation period was also removed. The Croatian government has introduced a new online entry form to expedite the entry of foreign visitors. Visitors should carry a copy of their accommodation booking or proof of ownership of holiday homes / boats when arriving in Croatia. If you're travelling to Croatia for business you should carry evidence of a business invitation or meetings.
ICELAND
§ Every visitor required to self-isolate for 14 days.
NORWAY
§ UK Nationals are permitted to visit family members in Norway. Essential workers may also enter the country if the work is to begin imminently (proof will be required). All visitors will be required to self-isolate for 10 days.
POLAND
§ A self-isolation period of 14 days is required unless you meet one of the criteria on the list of exemptions.
SWEDEN
§ UK Nationals are currently able to travel to Sweden.
SWITZERLAND
§ There are some exemptions that will allow entry into Switzerland (Click here).
British nationals are able to apply for family reunification in Switzerland via the cantonal authorities.
The Swiss Government intends to relax border restrictions for UK Nationals on June 15th
REST OF THE WORLD
BARBADOS
§ Any visitors are currently required to complete a 14-day quarantine on entry.
SINGAPORE
§ If you need to visit Singapore in extenuating circumstances, you should make a request to the Singapore government by submitting a Form 14 to the Immigration and Checkpoints Authority and wait for a response before attempting to travel.
THAILAND
§ International flights to Thailand are suspended until June 30th 2020. Like with some countries there are very limited circumstance where entry may be granted. For more info click here.
UAE (UNITED ARAB EMIRATES)
§ Any British residents needing to return to UAE will be required to follow the process as set out on the government website (gov.uk).
AUSTRALIA
§ You will need to apply for a visa via special exemption to be able to travel to Australia – normal visa applications are no longer accepted. Only Australian citizens and returning permanent residents and their immediate family members are permitted to enter Australia without an exemption until further notice.
NEW ZEALAND
§ The New Zealand border is currently closed to almost all arrivals.
For a small number of exceptions click here.
© CURRENCY ONLINE GROUP
10TH JUNE 2020