Where can you currently travel to during the Coronavirus pandemic?.
27
JUL.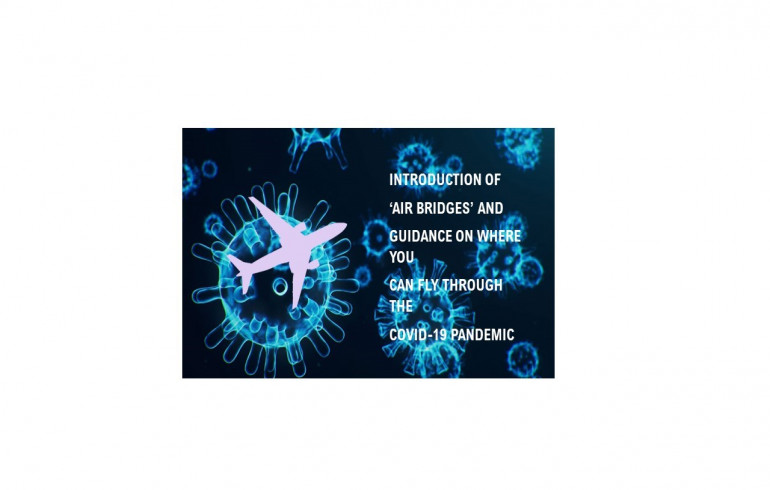 Updated 27th July 2020

Where can you currently travel to during the Coronavirus pandemic?
The Foreign and Commonwealth Office (FCO) continues to review the guidelines for travel. With the situation seemingly improving daily the hope is that restrictions on UK travellers will be temporary, meaning some 2020 summer holidays may still go ahead to certain destinations.
July 10th saw the introduction of agreed 'air bridges' to many destinations worldwide, lifting the need to quarantine on entry and return from these countries.
Here we look at the travel advice per destination according to the FCO.
EUROPE
FRANCE
§ From July 4th France is exempt from the FCO advise against all essential international travel. Those travellers arriving from the UK are no longer required to self-isolate for a 14-day period.
ITALY
§ Travellers arriving in Italy directly from the UK are now usually exempt from the requirement to self-isolate.
You will only need to self-isolate if:
you travelled outside the UK in the 14 days prior to your arrival in Italy or;
you will be arriving in Italy from a country for which there are still self-isolation requirements (see the Ministry of Foreign Affairs website).
SPAIN
§ From 26th July, the FCO advises against all non-essential travel to mainland Spain based on the current assessment of COVID-19 risks. Only the Canary Islands (Tenerife, Fuerteventura, Gran Canaria, Lanzarote, La Palma, La Gomera, El Hierro and La Graciosa) and Balearic Islands (Mallorca, Menorca, Ibiza, and Formentera) are exempt from the FCO advice against all non-essential international travel.
GREECE
§ You will be required to complete an online Passenger Locator Form (PLF) at least 24 hours before your arrival in Greece. The form is online, in English. Once you have completed the form, you will receive a QR code (which you can display either on your mobile phone, or on a printed piece of paper). You will need to show this code to the Greek authorities on your arrival in Greece. Failure to do so in advance may result in your carrier not allowing you to travel, receipt of a 500 Euro fine from the Greek authorities on arrival, or the Greek authorities not allowing you to enter the country.
§ When you arrive in Greece, the Greek authorities will scan the QR code generated when you completed the PLF form, and may direct you for health screening (including testing for coronavirus). The Greek authorities' instructions will differ according to whether you arrive by land, sea or air.
BULGARIA
§ From July 16th 2020 travellers arriving into the country from the UK will no longer need to self-isolate for a period of 14 days.
CROATIA
§ On 11 May Croatia reopened its borders to visitors from the EU/EEA, and the UK, provided they held an accommodation reservation in the country. The self-isolation period was also removed. The Croatian government has introduced a new online entry form to expedite the entry of foreign visitors.
CZECH REPUBLIC
§ There are currently no restrictions in place on entering the Czech Republic if you are travelling from the UK.
DENMARK
§ Entry from an 'open' country does not require a period of self-isolation. The UK is deemed an 'open country. The only requirement is if you are entering as a tourist you will be required to document your holiday stay.
ICELAND
§ All passengers arriving by commercial flights in Iceland can chose to be tested for COVID-19 or self-isolate for 14 days upon arrival. The test fee is ISK 11,000 or ISK 9,000 if booked in advance. Children, born in 2005 or later will be exempt from both testing and self-isolation.
§ You will also be required to fill out a pre-registration form before departure. You can find further information, including exemptions, from the Icelandic authorities at Covid.is (available in English).
§ If you test positive on arrival you will be required to enter self-isolation (at your hotel or government-provided accommodation) unless further tests determine the infection is inactive. You may also need to be tested again or enter self-isolation if you are exposed to a possible infection during your trip e.g. during the flight to Iceland.
NORWAY
§ From 15th July, Norway is allowing entry for those resident in most Schengen or EU/EEA countries (which until the end of the year includes the UK). As a country with a low risk of infection, residents of the UK may travel and do not need to self-quarantine on arrival in Norway.
POLAND
§ From 4 July, Poland is exempt from the FCO advice against all non-essential international travel. This is based on the current assessment of COVID-19 risks.
SWEDEN
§ UK Nationals are currently able to travel to Sweden directly.
SWITZERLAND
§ Entry in to Switzerland from the United Kingdom is permitted for British nationals and nationals of EU and EFTA countries. Family members of UK/EU/EFTA nationals regardless of nationality are also permitted.
TURKEY
§ June 11th saw the resumption of direct flights from the UK to Turkey. No self-isolation is required but temperature checks will be undertaken on arrival.
REST OF THE WORLD
BARBADOS
§ International flights resumed to Barbados on July 12th. To fast track entry it is highly recommended that all persons arriving in Barbados should be tested for COVID-19 at an accredited laboratory. The test must be UKAS compliant or equivalent and be taken 72 hours in advance of your flight. As long as you produce a negative test result entry will be permitted. For more information click here. If you fail to produce a negative test result you will be required to undergo a test on arrival and placed in quarantine until a negative result is returned.
SINGAPORE
§ If you need to visit Singapore in extenuating circumstances, you should make a request to the Singapore government by submitting a Form 14 to the Immigration and Checkpoints Authority and wait for a response before attempting to travel.
THAILAND
§ International flights to Thailand are suspended until June 30th 2020. Like with some countries there are very limited circumstance where entry may be granted. For more info click here.
UAE (UNITED ARAB EMIRATES)
§ Visitors will be able to travel to Dubai from 7 July. Further information about what visitors need to do before they travel and what will happen on arrival in Dubai is available on the Government of Dubai website including information about testing on arrival and quarantine.
Before visitors fly to Dubai, they will also be required to complete a Health Declaration Form and a Quarantine Form. Both forms need to be printed, completed and handed over to Dubai Health Authority staff on arrival. Visitors to Dubai will also have to register their details on the Covid-19 DXB App.
Visitors must have international health insurance before travelling and must show that they have had a negative PCR Covid-19 test a maximum of four days before their departure date. If they do not have a test result or are showing symptoms of Covid-19, they will be tested at Dubai airport.
AUSTRALIA
§ You will need to apply for a visa via special exemption to be able to travel to Australia – normal visa applications are no longer accepted. Only Australian citizens and returning permanent residents and their immediate family members are permitted to enter Australia without an exemption until further notice.
NEW ZEALAND
§ From 4 July, New Zealand is exempt from the FCO advice against all non-essential international travel. This is based on the current assessment of COVID-19 risks.
© CURRENCY ONLINE GROUP
10TH JUNE 2020
UPDATED 27th July 2020